Wedding Invitation
Solaiappan Weds Vijaya on 08-Feb-2006, Wednesday @ Nachandupatti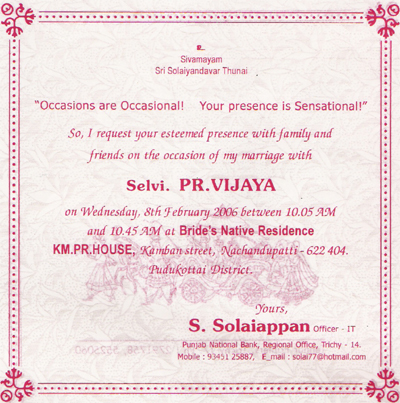 ---
Plain Text Version as below...
Sivamayam
Sri Solaiyandavar Thunai
"Occasions are Occasional! Your presence is Sensational!"

So, i request your esteemed presence with family
and friends on the occasion of my marriage with

Selvi. PR.VIJAYA
on Wednesday, 8th February 2006 between 10:05 AM at Bride's Residence
KM.PR.HOUSE, Kamban street, Nachandupatti - 622404, Pudukottai District.

Yours,
S. Solaiappan (Officer - IT)
Punjab National Bank, Regional Office, Trichy - 14
Mobile - 93451 25887, Email : solai77@hotmail.com

Reception - Penn Azhaippu on Wednesday, 8th February 2006 between 7:00 PM and 7:45 PM at my Native Residence KOTHARI MUTHAA HOUSE, 91, P.RM.P. Street, Near Indian Bank, PALLATHUR, Pin - 630107, Sivagangai District
NARCHANDUPATTI is 18 KM from pudukottai towards Ponamaravathy (One and a half hours travel from trichy - Bus No. From Pudukottai: 6, 6A, 13)

PALLATHUR is 45 KM from pudukottai towards Karaikudi (Two hours from trichy)
No comments
You can comment / reply using Facebook form or Standalone form (no login required)
Facebook Form
Leave a Reply (Standalone form)